2008年04月10日
富山県青連役員会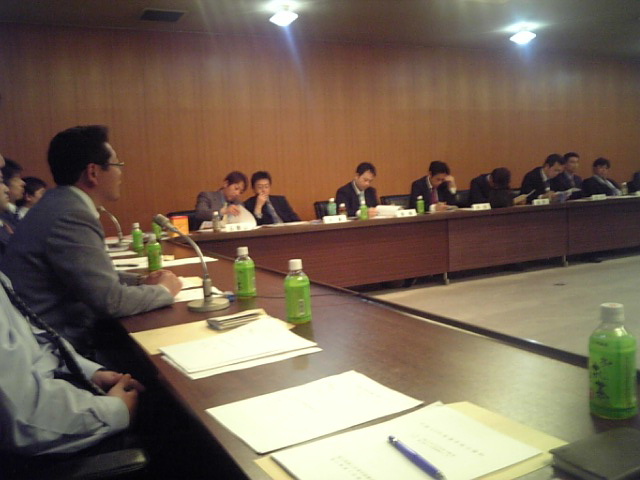 春田@副会長
 4月9日、富山県中小企業センターにて新年度の第一回目の部長会議が開催されました。総会前最後の会議ということもあり、慎重審議いただきました。
 ここで、県青連通常総会の役割が決まりましたので、ご報告します。
議長『越本大門青年部部長』 司会進行『松田舟橋青年部部長』 誓いの言葉・青年部宣言『高見和合青年部部長』
このブログをご覧の青年部員の皆さん!!5月8日富山県中小企業センターにて富山県青連の通常総会が行なわれますので、たくさんの部員の参加お待ちしております。上記3名のスムーズな進行にプレッシャーをかけてあげてくださいね〈笑〉
もうひとつの重要議題として、平成21年度全国大会(富山大会)開催予定の件についても議論されました。我が県へ全国の青年部員をお招きする立場として、次会開催の福岡大会(平成21年2月10~11日)へたくさんの部員が参加することが要望されました。こちらも合わせて、参加お願いします。
最後になりましたが、射水地区の4つの単会(小杉・大島・下村・大門)が合併し、本年度から富山県下28単会となります。昨年度1年間一緒に活動してきた坂井小杉部長・竹脇下村部長・越本大門部長、本当にお疲れ様でした。これからも、宜しくお願いします。
2008年04月10日 21:40
トラックバック
このエントリーのトラックバックURL:
http://www3.shokoren-toyama.or.jp/mt/mt-tb.cgi/393
コメント
Sick of the japan headlines? I'm there to meet your requirements
投稿者 コンバース プレッピー ハイ : 2014年07月14日 19:00
groupe de s茅curit茅 de l'industrie chimique entend id茅es BR
投稿者 karen millen voucher code : 2014年07月16日 16:01
The Primary Easy Methods To Learn watch And The Way One Might Join The watch Elite
投稿者 キャロウェイ : 2014年07月17日 01:12
Excellent transaction . Expédition rapide et grand prix. Traitera de nouveau.
投稿者 Discount Celine Edge HandBags On Sale online : 2014年07月23日 14:29
Il n'y avait pas d'indications de la police que cet homme 茅tait de toute fa莽on dangereuse. Il vient marcha calmement dans un costume soign茅 et a ouvert le feu.
投稿者 sac celine phantom occasion : 2014年08月04日 12:37
Good morning, everyone, and welcome to the Liz Claiborne Fourth Quarter 2010 Conference Call, hosted by Chief Executive Officer, Bill McComb. [ Instructions] Please note that there will be a slide presentation accompanying the prepared remarks. There are separate links to the slides for the webcast and phone participants.Please note that statements made during this call that relate to the company's future performance and future events are forward looking statements within the Private Securities Litigation Reform Act. These forward looking statements are based on current expectations and are subject to the qualifications set out in this morning's press release, as well as in the company's 2010 Annual Report on Form 10 K, under the captioned Item 1A Risk Factors and Statement Regarding Forward Looking Statements being filed today with the SEC.Also, please note that during this call and in the accompanying slides and press release, net sales, gross profit, gross margin, SG SG as a percentage of sales, operating income, operating margin, interest expense, net income or loss from continuing operations and EPS are presented on both a GAAP and non GAAP basis. EBITDA, adjusted EBITDA, and adjusted EBITDA excluding foreign currency gains and losses are non GAAP measures that are also presented in the accompanying slides and press release.The company presents EBITDA measures because it considers them important supplemental measures of its performance and believes they are frequently used by security analysts, investors and other interested parties in the evaluation of companies in its industry.The company believes that the adjusted results for the fourth quarter and full year 2010 and 2009 represent a more meaningful presentation of its historical operations and financial performance, since they provide period to period comparisons that are consistent and more easily understood.Now I would like to turn the call over to your host, Mr. McComb. Please go ahead, sir.Good morning, and thank you for joining today's call. Following our usual format, Andy Warren and I will be presenting our final fourth quarter and year end 2010 financial results as reported in this morning's press release. These results are consistent with the preliminary report that we've issued back on January 6.I'd like to begin by providing a perspective on our results for the year as a whole, take a quick look at how this morning's announcement compares to the pre release, and then make some comments on the forward looking perspective for 2011 and 2012. Andy will then give a full overview of the fourth quarter metrics. I'll provide some commentary on the segments as we always do, and then wrap up with a discussion on our 2011 priorities, and we'll conclude with a Q session.2010 was a year of substantial change and real progress across all of our businesses. We cut our adjusted operating losses by a third, and in the back half, we swung from a significant adjusted operating loss to an adjusted operating profit.Our balance sheet and cash flow positions remain quite strong at year end. We ended the year with $80 million less in total debt than the fourth quarter of 2009. Cash flow was strong for the year, resulting in bank debt of $23 million at year end, and availability of $240 million under our current bank credit facility.While those results leave plenty of room for improvement, the underlying operating narratives and brand stories are compelling and speak positively to our future. The Partnered Brands segment is now on track to be profitable in 2011. We expect to accomplish a full restructuring of the Liz Claiborne International portfolio by the end of this month. We closed the Liz Claiborne New York outlets and we've successfully relaunched the core Liz Claiborne and Claiborne businesses at JCPenney and the Liz Claiborne New York label at QVC in August.The visibility and execution that JCPenney is giving the brand takes us back to the glory days where outstanding floor presence, advertising and all store penetration drove Superbrand status. Our capital efficient deal structure is also noteworthy. At DKNY jeans, we were able to stem losses which we saw in 2009 and the first half of 2010.Lucky Brand Jeans had a year of significant retrenching, burdened by clearance of excess and aged inventory in the first half, and a creative relaunch in the second half. While the comp story was up and down in the final four months of the year, the division has established very strong leadership corporately and in the field. They've built very strong merchandising systems and processes and they've introduced marketing and visual merchandising elements that make the stores more compelling than ever. While the team is still learning what product direction will excite our female target and further differentiate the brand, they're more on track than we have been in the past five years, as evidenced by the most recent trend, which I'll address later in the call.The Mexx European business truly appears to have traction, as we reported on the January 6 call. And while we continue to see up and down comp numbers in our direct to consumer business, the wholesale accounts are reporting strong sell throughs. We're seeing forward orders for spring and summer up measurably over a year ago as the brand begins to roll out more broadly in the strong high volume department stores and franchise locations in key markets.The Eastern European business is very strong again. And while losses burdened our overall corporate 2010 results, we have shown that the brand has power when supported with great product and marketing. So I look at 2010 as establishing a successful proof of concept for the relaunched business. In the meantime, the Canadian business remains healthy and profitable.Our Kate Spade business showed outstanding performance. As I've been saying, we're seeing very healthy growth in every product category, in all channels and in all geographies. While we invested in this turnaround in the early years post acquisition, even losing money at first, today, the business is very profitable and can no longer be viewed as too small to matter for our company. The brand has remarkable strength with the consumer as we see in our market research, and now needs an infusion of newness both here and abroad.Our cost structures again showed progress. distribution operations into one facility. We made strategic business related restructuring decisions and closed unprofitable locations at both Lucky Brand Jeans and Mexx Europe, all while continuing to further reduce headcount related and discretionary spending across the company.So turning here to Page 4 of the slide deck, you'll see that our adjusted operating results in the fourth quarter were consistent overall with thewas up 191 basis points, right in line with the range of plus 150 to plus 250. SG came in at $354 million, just under the $355 million target that we guided. And adjusted operating income for the quarter came in up $6 million over 2009, right in line with the range that we projected of being flat to up $10 million. In addition to the numbers being right in line, the narratives we provided on January 6 fully described the drivers of the performance in each of the businesses.So looking forward, we continue to believe the marketplace is improving, but we face a value driven and promotion oriented consumer. We must factor that into our thinking about inventories and margin. We also believe that the digital and mobile tipping points are here and as such, we need to be conservative in planning store productivity models and be very aggressive with our e commerce platforms. While the commodity pricing pressure is real, we're more mindful and concerned about the longer term state of the vendor community and the inflationary pressures of the wage environment in China.So looking forward, we expect to see sequential improvement in most of our key operating metrics through 2012. We do anticipate having positive adjusted EPS in 2012. We expect to see productivity improve in our retail stores in all brands and we will continue to manage costs. We will also target gross margin improvement and we will restructure the remaining underperforming elements of the portfolio where needed. We're going to look for more opportunities to pay down debt.At this time, our fiscal policy regarding no dividend, no acquisitions and no share buybacks remains prudent and justified through the 2012 period.For fiscal 2011 then, we're targeting an adjusted EBITDA in the range of $100 million to $120 million, compared to adjusted EBITDA of $50 million in 2010. This reflects the current view of our businesses as we continue to work through the turnarounds at Mexx Europe and Lucky Brand, speed the rollout of Juicy Couture globally, while reenergizing the Domestic business and continue to drive profitable growth at Kate Spade and with our licensed Liz Claiborne brand at JCPenney.In light of where we finished 2010 and our forecast for 2011 and our current view of market conditions overall, we're currently targeting adjusted EBITDA for 2012 in the range of $180 million to $220 million. This range reflects the sensitivity in our overall corporate performance to achieving profitability at Mexx Europe.Our management and board remain committed to delivering meaningful value to our shareholders. While this target falls short of the goals we laid out in our 2012 threshold framework, we remain focused on achieving the profits and cash flows required to hit those threshold goals as quickly as possible.We recognize that we have a very diverse and valuable portfolio of brands, and appreciate that there are many different ways to create value for our shareholders over time. Today, our initiatives will be aimed at strengthening these options and asset values over time by improving operations and consumer brand strength.So now with that perspective, let me turn the call over to Andy Warren, our CFO, to review financial metrics from the quarter and the year end. Andy?Liz Claiborne's CEO Discusses Q4 2011 Results
投稿者 outlet timberland milano : 2014年08月14日 18:18
Mme Hollister, qui 茅tait "juste une jolie petite m猫re禄, comme elle disait, dans un premier temps a nulle part. Mais elle 茅tait aussi, la femme d'un partenaire bien connect茅 dans un cabinet d'avocats de Manhattan et ne pas simplement prendre le 芦non禄 des cadres de base. Puis elle a rencontr茅, qui aimait son id茅e et a ouvert les portes pour elle.
投稿者 http://arredamentiaversana.it/?id=246 : 2014年08月26日 13:50
コメントしてください